As part of the country's contingency plan to deal with power cuts, a public information campaign will try to persuade people to use less gas and electricity, even though ministers have rejected such a move.
The National Grid said this week that the country could face three-hour power outages this winter, but the Prime Minister ruled out asking consumers to use less gas and electricity.
Downing Street is said to have blocked a proposal from the Department for Business, Energy and Industrial Strategy for a £15million campaign encouraging households to switch off their boilers to accompany the announced £60billion energy support package last month.
Climate and Energy Minister Graham Stuart told Sky News such measures 'make no difference' to energy security, and said a campaign would be the actions of a 'nanny state' .
This view contradicts the government's Electricity Supply Emergency Code (ESEC), which sets out the plan to maintain essential services while managing the impact on households in the event of a power shortage.
The document, published by BEIS, states that "in the event of an emergency…it is very likely that there would be appeals to the public and industry to reduce the demand for electricity".
The plan goes on to say that a government campaign would be the first of three steps in the event of a shortage.
"In the event of an emergency in the supply of electricity, it may be necessary to limit the electricity consumption of customers," says the ESEC.
Read more:
Plan for three-hour power outages to prioritize heating in the event of a gas shortage
In a context of energy security and price crisis, the key winter outlook report is of particular importance
"Longer term restrictions can be achieved by one or more of the following methods: UK government public calls for voluntary restraint; orders or instructions…requiring restrictions on consumption by industry, commerce and other enterprises; directions…requiring turn-by-turn disconnects [power cuts] and associated restrictions."
The CESE, which must be triggered by the Secretary of State for Enterprise and formally approved by the King in the form of an Order in Council, defines the protocol for managing electricity cuts as well as the industries and public services that will be protected. .
'Protected sites' during an emergency power cut
"Protected sites" to which electricity will not be cut include the gas and electricity supply system, airports, oil refineries, hospitals, ports and docks, water and sanitation, digital and telecom services, emergency services and the armed forces and treasury financial services. considers uninterrupted operation necessary.
All Protected Sites will be required to reduce power consumption in the event of a shortage and, in extreme circumstances, turn off anything unnecessary to protect the facility from damage.
Read more:
How worried should we be about the lights going out?
Will food die out in the fridge – and will my pet fish survive? How to prepare for a power outage
Power outages will be governed by a protocol known as the Variable Rotation Disconnect Plan (VRDP) which determines which homes and businesses will be without power and for how long.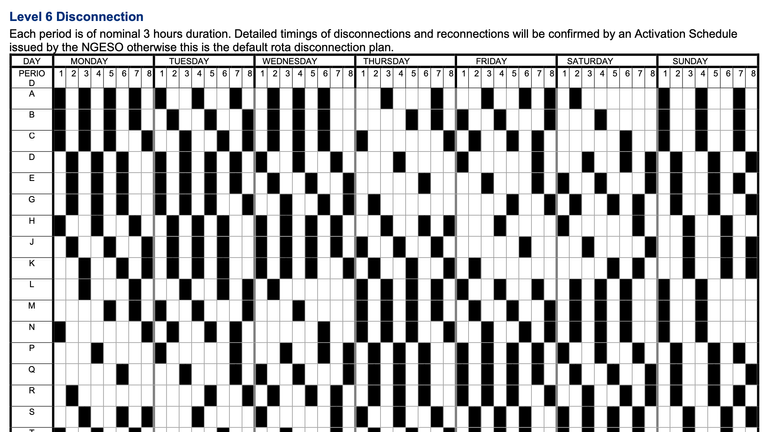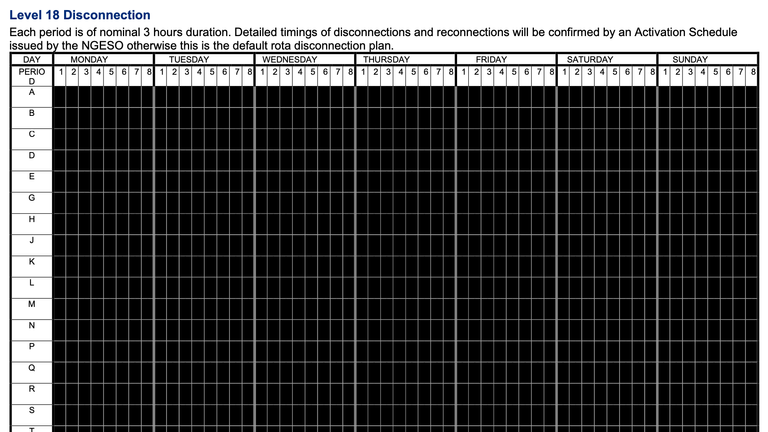 While the national grid controls overall supply, electricity is supplied locally by eight grid operators serving England, Scotland and Wales, with a ninth supplying Northern Ireland, part of a single energy system with Ireland.
Under the plan, each network operator's region is divided into 18 areas of nearly equal demand, called load blocks.
Eight three-hour periods
Each day of the week is divided into eight three-hour periods, with rotation determining which block will be turned off and when. If up to four load blocks were to be disconnected, the disruption would be concentrated over a three-day period, either Monday to Wednesday or Thursday to Saturday.
The national network will endeavor to inform BEIS of the areas that will be cut off no later than 2 p.m. the day before, with power restrictions from 12:30 a.m.
There are 18 rotation patterns in ascending order of severity, with Level 18 showing every block in every region of the country offline all day.